The Porter's Lodge Bar & Lounge
The Porter's Lodge Bar and Lounge is conveniently located close to Reception and the main Quebecs entrance, in the area originally used as the Porter's Lodge in the heyday of the Leeds & County Liberal Club.
With comfortable bespoke leather seating and views into Quebec Street, the Porter's Lodge is an elegant and cosy Lounge Bar where guests can relax with the day's papers over a cup of fine tea or Nespresso coffee, take a light snack Lunch, Afternoon Tea or Supper and depending on the mood, indulge in a cocktail, aperitif, digestif or other refreshment which our Porter's Lodge Bar Manager and his team will create for you with charm and skill.
Open from mid-morning until late.
The Gallery
The Gallery is a beautiful Lounge area located at the top of Quebecs' famous oak staircase, in the best position from which to admire the massive magnificent stained glass windows which depict the Coats of Arms of five of Yorkshire's famous towns. This is the perfect place in which to take a Cream Tea or full Afternoon Tea or simply relax in comfort and watch the world of Quebecs go by.
The Conservatory
Strategically positioned high up in the building, the Conservatory enjoys great natural light and views over the surrounding Leeds rooftops. Here the famous award-winning Quebecs Breakfast is served each morning. All breakfasts are cooked to personal order and use only the freshest ingredients from top quality Yorkshire suppliers including Sykes House Farm for our sausages, bacon and black pudding and the renowned, Lambton & Jackson's Maldon finest deep smoked salmon. Accompanied by teas from Taylors of Harrogate or a choice of Nespresso or cafetiere coffee to your order, whether you opt for a simple Continental, full Traditional or one of our traditional Classics, Breakfast at Quebecs ensures a fine start to your day.
In Room Dining
Enjoy the grandeur and elegance of the large rooms and suites at Quebecs to the full and let us serve you from our selection of dishes, sandwiches or burgers from our In Room Dining Menu in the comfort of your Room – perfect after a hard day's work or a long journey. Alternatively, after a busy morning in Leeds' famous shops, galleries or museums, order full Afternoon Tea in your room, then kick off your shoes, relax and discuss the highlights of your days' trip in the utmost comfort and style!
Quebecs' In Room Dining is available from 11.00 a.m. to 10.00 p.m., seven days a week.
Private Dining & Special Occasions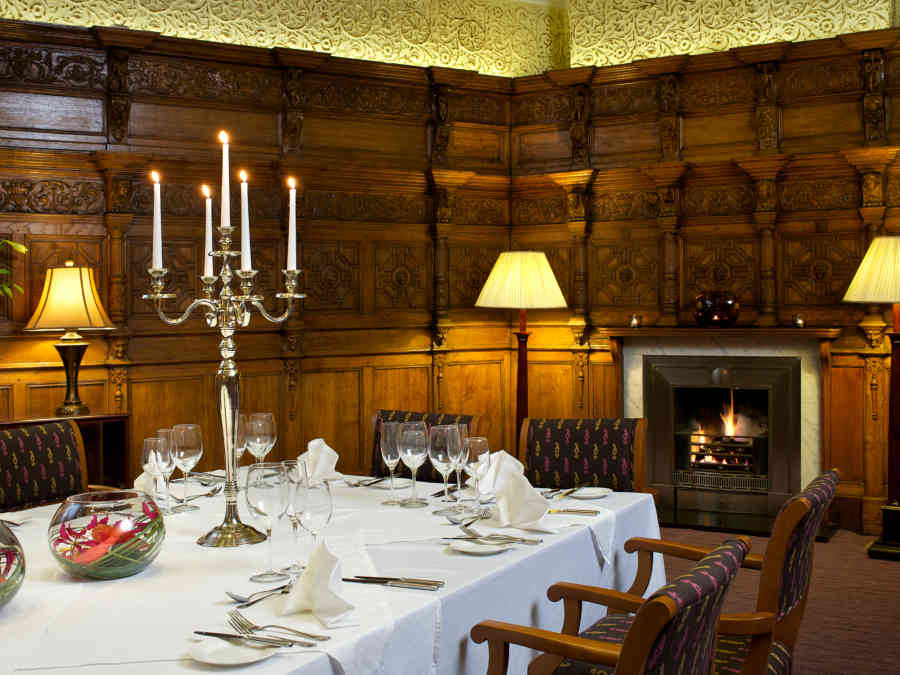 The Oak Room
The Oak Room is a unique jewel of a room on the third floor. Entirely clad with ornate oak panelling, with a magnificent moulded plaster ceiling and a warm gas fire at one end, the Oak Room is perfect for Special Occasions, Private Dining, Receptions and Events throughout the year. Every Occasion is organised to your personal requirements and you can be assured of quality cuisine and fine service always.
Contact us to discuss your Special Occasion
The Conservatory
The Conservatory, strategically positioned high up in the building with great natural light and views over the surrounding Leeds rooftops, transforms into a congenial venue for Private Dining and Business Events from midday until late and is frequently booked in tandem with the Oak Room for Receptions, Events and Meetings throughout the year.
Contact us to discuss your requirements